The Star Wars Death Star Scene | 5 Panel Wall Art Canvas Prints
The Star Wars Death Star Scene | 5 Panel Wall Art Canvas Prints
$114.99 – $299.99
$114.99 – $299.99
Exclusive Design
High-definition giclee prints on waterproof canvas.
Stretched, Framed, Ready to Hang!
Description
Additional information
Reviews
Description
Buy this Star Wars Death Star canvas wall art today and we will ship it to you for free! High definition giclee canvas printing of modern artwork, picture or photo on high-quality waterproof canvas. Professionally stretched and framed with 100% wooden bars. All 5 panels are clean-finished at the back with strong hooks already mounted for easy hanging out of the box. That's right – Ready to hang!
We bring you the very best Star Wars panel wall art on the market! Our wall art is designed to impress the customers, and we pay astounding attention to detail. Not only does it look great, but it also manages to deliver a sense of uniqueness and coolness for the entire experience. This would be the perfect art piece for your living room, bedroom, office, dining room, office, dormitory, hotel lobby etc. This also might be the special gift that you've been looking for your very important loved ones.
Purchase this now. Join our happy customers today as we offer a 100% Satisfaction Guarantee. Be amazed at how you can complete your interiors perfectly with this set of wall art canvas. What are you waiting for? Get your own framed canvas print today!
Only at panelwallart.com
Additional information
| | |
| --- | --- |
| Weight | 0.005 kg |
| Panel Design | 5 Panel |
| Size | Extra Large, Large, Medium |
| Depth | Thick, Thin |
Customer Reviews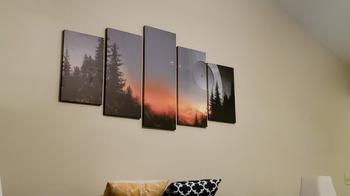 04/12/2019
Looks Cool, Graphic quality
It was rather easy to put up. The panel looks really cool. If you go up close to it you can kind of see that the graphics quality is fine, so either get a smaller version if you plan on having it somewhere people can go up close to look at it or if it's going to be far from view you can go with the bigger one.
07/06/2021
Love it
A little tricky hanging but double sided Velcro works well
Anonymous

AU
02/24/2021
Awesome!
Great buying experience from start to finish. I love my wall art - it looks great in my Star Wars themed room! Great quality and detail. Definitely recommend these guys for cool wall art!
Anonymous

AU
03/02/2021
Panel Wall Art
Dear Customer, Thank you for your feedback. We look forward to serving you again in the future. The Panel Wall Art Team
11/17/2020
Star Wars Death Star on Endor
This company was wonderful. Very easy to search options and find what I wanted. The shipping was fast and the product arrived in perfect condition. The print is vibrant and beautifully done. I can't wait for them to help decorate the rest of my house!
Kricket M.

US
11/28/2020
Panel Wall Art
Dear Kricket Masters, Thank you for your kind words. It is our pleasure to know that our customer is satisfied with the overall purchasing experience! We hope to serve you again in the future. Customer Service Team
08/11/2020
Love this panel set!
Great experience. Inexpensive and quality. Looks great on the wall. My son has been pushing his friends to decorate with these in their apartments.
Nancy B.

US
08/12/2020
Panel Wall Art
Dear Nancy, Thank you for sharing your feedback with us. This item is specially made by our team. This image does not contain the blurriness like those that are available in the market. Thank you for trusting us. We will continue to provide the best service for you and our community. Regards, Customer Support
06/29/2020
Star Wats Death Star Scene
We are very excited to put this up in our movie room. The 5 pieces are amazing and great quality,
Anonymous

US
07/02/2020
Panel Wall Art
Dear Customer, Thank you for your feedback. Have a nice day! Regards, Customer Support
04/14/2020
Cool piece
Good quality and catches the eye. Also it's Star Wars.
Matt F.

US
04/15/2020
Panel Wall Art
Thank you for your review. We are glad that you find satisfaction of your purchase. Above all else, take care and stay healthy.
03/26/2020
Star Wars Panel Art
We love this piece, it is well made and it was exactly what I ordered! It fits perfectly in the space that I wanted!
Clara M.

US
04/04/2020
Panel Wall Art
Thank you for your trust and kind words. We wish that you stay healthy and safe at your area.
02/05/2020
High Quality product!
Product quality is awesome! Colors are accurate to the pictures when we ordered, details and sharpness are excellent. Would suggest improvements in order communications, but product is great.
John S.

US
02/06/2020
Panel Wall Art
Hi Customer, thank you for your review. We truly value your feedback. Have a nice day!
01/26/2020
Hangers had a problem
The first two hangers on the back of the first picture were crooked but once I got that one hung the four others were a breeze. That's because the others only had one hanger on the back.
Anonymous

US
02/06/2020
Panel Wall Art
Hi Customer, thank you for your review. We truly value your feedback. We will work on that! Have a wonderful day.
10/24/2019
Star Wars canvas
Bought it for my daughter as a wedding gift as their wedding was Star Wars theme. The bride and groom loved it. Came in plenty of time and packaged to perfection ; no damage.
Anonymous

US
11/23/2019
Panel Wall Art
Dear customer, thank you for having taken your time to provide us with your valuable feedback. It is our pleasure to be in a small part of sharing your joyfullest moment. Looking forward to serve you again in the near future.
04/04/2019
Nice
I bought these for my husband and he loved them. Exactly what I expected.
02/25/2019
5 panel death star
At first I didn't recieve it but after a mail I recieved the panels within a few days.
02/12/2019
good resolution
The colors are great. Great resolution image. Clear graphics on the tie fighter wings.
01/28/2019
Can't be better
Happy with the quality.
12/16/2018
Love it!
Fast ordering process and love it!
12/10/2018
Good quality product.
This looks great. I would recommend a medium size.
12/03/2018
Sailboat wall art
Decent quality. Worth it all.
10/20/2018
Star Wars wall art
Received my order in a timely manner. Quality of the print is great. I will be ordering more of these in the near future!!